Hello everybody,
My project is a small board containing an esp32 and some sensors (5v, less than 0.5A in total everything included)
I'm designing my very first pcb and I have some doubts so I would like to have your opinions before sending my files to jlcpcb:
Is there a generic rule to define the minimum isolation ? Do you think leaving it to 0 is a bad idea ?
Since I moved to Kicad 7.0.2 I'm getting this new error:
It seems to throw that error because there is a connection to a zone on only one side but as there is a also a track, I don't think it's an issue. Am I wrong ? Is there a way to tell Kicad that the track is enough and that it is not an issue ?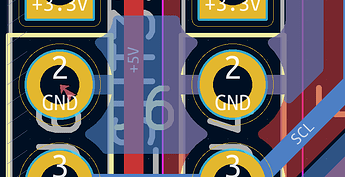 Also if there a way to tell kicad to connect to copper zone in diagonal ? In the screenshot from point 2, I think I could have two connections to the copper zone if I placed them in diagonal.

When using a zone to connect pads to GND, is it ok to have only one connection (one link) between the zone and the pad ? The error from above make me thing that maybe it's not enough, is there a rule to follow ?

I don't get what is the difference between a trace of 0.5mm and a connection to the copper zone (connection of 0.5mm). Why one trace is good and not one connection to a copper zone ?

I would like to place gnd connection from underneath the BME688 sensor and I'm wondering what would be the best between a zone and tracks ?
this



or this


Trace width: I wanted to be sure that my traces are wide enough to not cause any problems like voltage drop or heating too much. So all my traces (except the ones for small smd packages) are 0.508mm width. Do you think that it is a good idea ? What would you recommend knowing that it's for 5V with less than 0.5A (for the total of everything).
Sorry for all those questions that sound probably obvious to you, it's my very first time, I probably did many mistakes without even knowing.
I'm thinking to ask if someone wants to take some time to quickly review my design and tell me if I did big mistakes before I validate the order (I'll pay for that of course but as it's a hobby project, not too much ^^)
Thank you all for your help