For reference, I'm running Pop!_OS 22.04 (Ubuntu-derived Linux distro), with the desktop set to the built-in "Dark" theme.
In any dialog in KiCad, where there are text fields, any text field that's in an active row but out of focus renders with black-on-gray: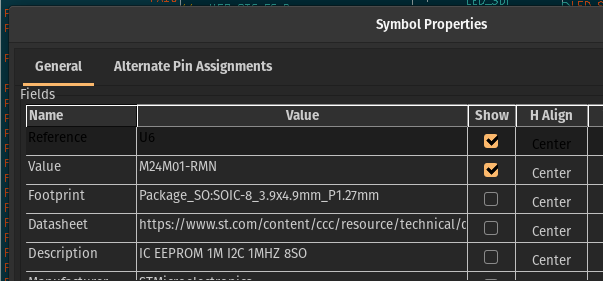 This includes the whole row, if the dialog loses active state for taking a screenshot like this. If the text field has a cursor in it, then its every part of the row besides the field with the cursor.
Additionally, every once in a while KiCad has this habit of rendering an entire active text edit field as the background color, presenting the effect of that text field simply being non-functional when I click on it. However, I can still copy out of it with Ctrl-C, and if I blindly type content then it does get set to the value. I'd share a screenshot, but for some reason this bug is intermittent and I cannot reproduce it on demand.
If v7 wasn't right around the corner, I'd consider attempting to directly file bug reports over these issues. But because it is, I'll wait for v7 to drop and then test again. Just want to know if anyone else has run into these issues, or knows of a fix/workaround.
(It very well may be due to bad dark theme support in wxWidgets, as I've had similar sorts of problems in HTerm.)