I'm interested in designing a FeatherWing in KiCad. I attempted to start from https://github.com/adafruit/Adafruit-FeatherWing-Proto-Doubler-and-Tripler and then use https://github.com/lachlanA/eagle-to-kicad to convert "Proto FeatherWing" to KiCad to use as a starting point.
I ran into trouble in Step 7. Opening the Proto FeatherWing.brd file as "Eagle ver. 6.x XML PCB file" results in this dialog: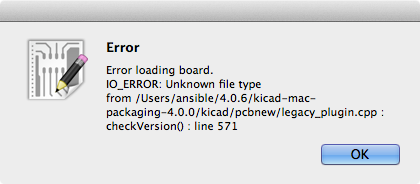 Does anyone have a FeatherWing template for KiCad that I can use as a starting point?
Or, alternatively, any idea how I can go about diagnosing/fixing the error with importing the Eagle PCB?
Thanks!