Final end node without jumpers.pdf (81.8 KB)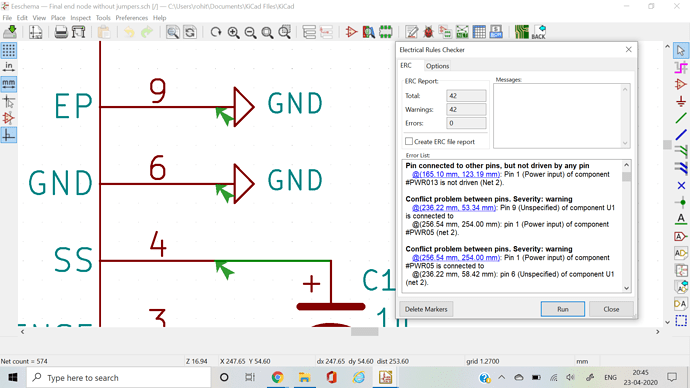 Hello everyone,
I have first made my schematic which i have attached in PDF form. In my project i have used an arduino pro mini and RTC libraries which i have separately downloaded from the internet.However i could only download the libraries not the individual footprints.
In my pro mini & Rtc i have done a bit of customization as in removed some LEDs , regulator etc.
Now my current issues are:-
1)When i performed the rules check lot of errors were reported i have attached the picture. There is a green marker pointing towards the mistakes but i have no idea what's wrong with my connections.
2)When i have assigned footprints to my symbols i got the following errors, now my main doubt here is that i symbols which i built directly in my schematics got their footprints directly assigned without my interference, but the pro mini and rtc and their respective pin connectors etc which i downloaded from the net didn't get their footprints assigned.
I have attached a pic of the footprints which got assigned.Whichever components had end node written next to them didn't get their footprints assigned, so how do i know which footprint to exactly assign to them?
Also what a fiducial mean & why is it required?