I'm using KiCAD for over more than 8 years now but I never expressed my gratitude to the guys who've made it such a great tool.
For me, it's a magnificent piece of art and software made by enthusiastic people who offer lots of their free time to come to the result of what it is now.
I recently moved from KiCAD 3 to KiCAD 5 (skipped the KiCAD 4 saga because of too much issues at that time) and I must say I didn't regret it. The changes are big and - even more important - useful. Especially the PCB part has much better and smoother features compared to KiCAD 3 when routing tracks and the like.
But other tools are great too: 3D viewer, Gerber viewer,…
I just finished a board to control 32 relays using 2 MCP23017 IO expanders together with 4 ULN2803 octal darlington drivers to drive the relays. I've attached both top and bottom view of the result. And yes, I really do like the result…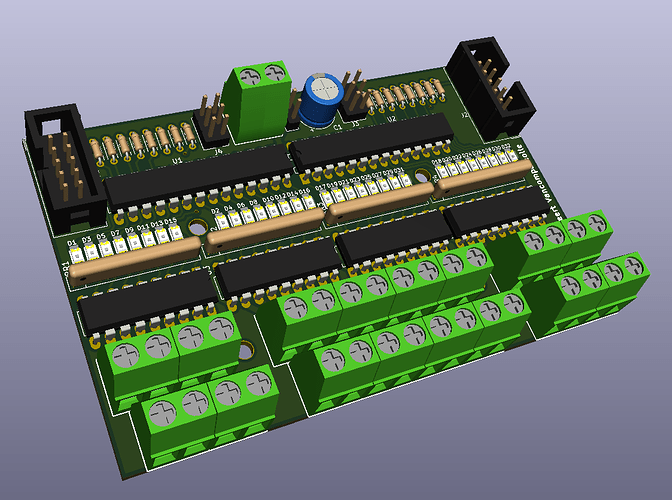 And I'm more than proud to put the KiCAD logo on my design.
Next step is to send the PCB for manufacturing to OshPark, a no-nonsense PCB manufacturer with excellent results and relatively cheap (yeah, I know the Chinese can make things maybe a bit more cheap but I like it to support our economy…). And no, I'm in no way affiliated with the company, I'm just extremely satisfied with the PCB's they made for me in the past…
Hats off to all the amazing people who've made KiCAD for what it is today, I bow for you guys…